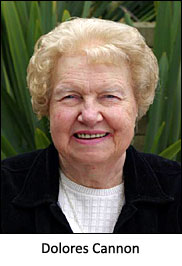 Quantum Healing Hypnosis Technique (QHHT) was developed by Dolores Cannon, an internationally respected hypnotherapist, past-life regressionist, researcher, speaker and author of 17 books. She has over 45 years of hypnosis experience, with over 30 years of that spent developing and refining this wonderful technique of exploring one's past lives and contacting one's "Higher Self." Dolores is a true pioneer and cutting-edge leader in the field of hypnosis and past life regression.
I was fortunate enough to personally study under Delores's tutelage and achieve certification to practice this powerful method of regressive hypnotherapy.
"The technique involves inducing an individual to the Somnambulistic trance state through visualization" says Dolores.
QHHT guides the individual to access the Somnambulistic state of trance through deep relaxation and visualization. Everyone, including you, moves in and out of the Somnambulistic state daily: shortly before you wake and just before you doze off to sleep. Working with clients specifically at this level of trance, Dolores discovered an infinitely knowledgeable and powerful aspect of each individual that can be contacted and communicated with. This part of ourselves, as Dolores has learned, is always present with us and exists just below the surface of our conscious mind and ego. This "Higher Self" gives her and practitioners of her QHHT technique access to past lives and can even perform instantaneous healings when appropriate.
Quantum Healing Hypnosis Technique (QHHT) has proven to be effective on many thousands of people around the world, regardless of their age, gender, personality type, religious beliefs, physical symptoms, or cultural background.
---
* QHHT is intended for personal self-exploration and information only, and is not, in any way meant to diagnose, treat, or cure any medical or psychiatric conditions, nor replace care provided by a licensed health care practitioner.